Performance. Value. Service.
Since 1981, Trac-Rite has been a trusted brand for manufacturing attractive, durable, low-maintenance roll-up doors. We know that there are other roll-up doors you can buy, and frankly, we know they all look about the same from ten feet away.

But they are not. Here's what sets us and our doors apart.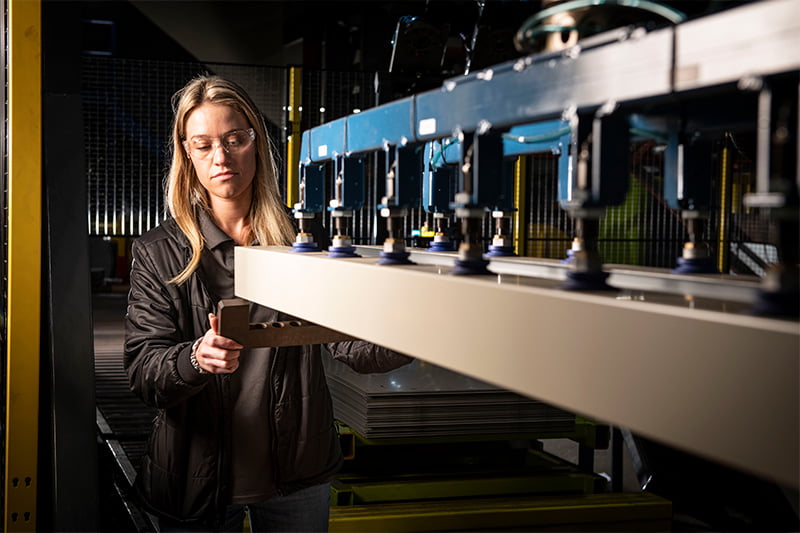 Trac-Rite is part of Trachte Building Systems, a 100% employee owned company. Trachte is one of the world's largest producers of self-storage buildings. Being employee owned means that every one of us has a vested interest in taking care of you, the customer. And with our doors going into storage buildings that our parent company sells around the world every day, we want to be sure that we are manufacturing the best doors roll-up doors available.
Trac-Rite is one of the few full-service and vertically integrated providers of curtain doors, corridor components and complete partition systems in the industry.
In addition to our Wisconsin headquarters, we have expanded our manufacturing capacity and distribution footprint with a new location in Alabama. This new location shortens lead times and reduces logistics costs for customers in the Southeast and Southwest.
Our business strategy is simple: provide high quality products and service at a competitive price. To execute our strategy we have invested heavily in best-in-class manufacturing processes and state-of-the-art automation. Industry-leading technology combined with skilled and dedicated employee owners enables us to provide a compelling value proposition for our customers and your customers.
Most manufacturers will offer a "price point" door – a low cost door with no wind rating. Doors with no wind rating have no place on the exterior of a building, but we see it happen. At Trac-Rite, our base model 944 has a wind rating of 130 mph on a 9' wide opening. Do some research and you should come to the same conclusion that we have: no one makes a stronger mass market roll up door.
In 2006 we upgraded all springs with the EP3 coating to prevent rust and eliminate the need for lubrication. It's clean, it's easy, and it makes broken springs a thing of the past. Our 10-year spring warranty has been copied, but the coating remains a relatively unique feature.
Felt strips keep your door running smoothly by preventing the front and back from rubbing and catching as the door is opened and closed. We use large felt strips at every axle drum.
Trac-Rite doors include a tension adjustment device at every spring. As any roll up door ages, the springs loses some tension and may require an adjustment. Our ratcheting mechanism makes it easy to do.